News from America from Monty Dart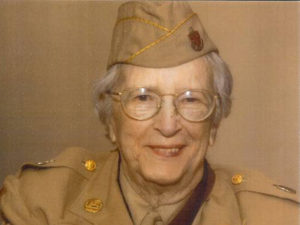 It is always thrilling when we greet our American cousins at Tredegar House and we love to hear their connections with the Morgan family. Readers of the website will remember the acquisition of Godfrey's cigar cutter that turned up from South Dakota – see that article here
http://www.friends-of-tredegar-co.uk/?s=cigar+cutter
An interesting email arrived from Janice Fix – 'I'm trying to find out information for my aunt who has a document that is a lease of property from Lord Tredegar what she says looks like it's on vellum.
She spoke with someone from the local library and said that these documents were a dime a dozen. She said the lease is for property at 4 Gainsborough Street, Mile End, not sure if that is correct or if it is supposed to be near Tredegar Square.
I can't locate anything near Tredegar Square.  She would like to donate it but not sure who to contact.  She doesn't remember where the document came from or even that she had it.  If you would be interested in the document, please let me know and she would be more than happy to forward it to you.'
Thank you. Janice Fix
What was this document doing in America? It is sad that this document was described as 'a dime a dozen', someone had seen fit to conserve it but why?
Carolyn Fix goes on to explain how it ended up in her possession
The document in question is a deed of sale for a property Godfrey Morgan, Lord Tredegar owned in London dated 5th August 1862.
We know that the Morgan family owned property and land all over London.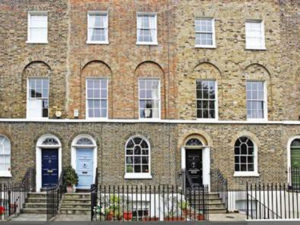 An example of the houses around Tredegar Square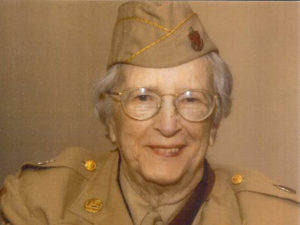 Carolyn Fix – Janice's aunt
Carolyn is now coming up to 94 years of age and this is a photo of her in a WAC uniform as she was a WAC during WWII and is still active in meetings and luncheons for WAC Veterans. This is her story.
'Sometime around the end of November, 1977, I went to the Estate sale of Cleveland Fisher in Manassas, Virginia.  I was interested in some books and bought a few in a box lot.  Since it has been some time, I believe the document was included in that lot from the estate sale.  We're not sure how Mr. Fisher came to own it, but he was known to collect old things.'
INDENTURE
Lease 77 ¼ years to 1938 – 4 Gainsborough Road, Hamlet Mile End, Stepney, Tredegar Square to Widow Mrs. Sarah Broodbank
The document measures 26.5 X 22 inches on vellum (two pages).
'I didn't remember having the document until recently while looking for something.
My niece Janice Fix, of New Jersey, USA, looked up the names on the document and found that it was possibly related to the Morgans and Lord Tredegar and from there, she found Friends of Tredegar House and was in contact with Ms. Monty Dart.  We are happy and excited to have the document back where it belongs. We hope that the document is being enjoyed as part of the history of Lord Tredegar.'
Carolyn Fix of Vienna, VA, USA.
Looking at the area now it is filled with £1,50000 houses and there is even a public house named 'Lord Tredegar' though Gainsborough Road has since disappeared.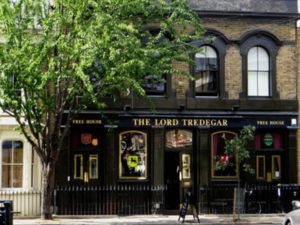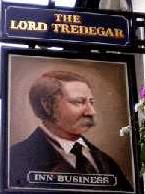 'Portrait of Lord Tredegar on an inn sign in Lichfield Road. Lord Tredegar, formerly Sir Charles Morgan of Tredegar, owned an area of land in the area. Between 1820 and 1832 buildings of a superior class were erected around what is now Tredegar Square. They still stand out from much of the surrounding housing. Lord Tredegar has a pub, a square and a street named after him, for there is also a Morgan Street nearby.' From www.exploringeastlondon.co.uk
But what of Mr Cleveland Fisher – what connection if anything did he have to the Tredegar Estate?
The 1930's USA census shows Cleveland Fisher lived with his parents in a house worth $3500 – check this site for values. https://www.measuringworth.com

1930 Census – USA
He was born September 22nd, 1918. November, 1977 and passed away in Manassas, Virginia at the age of 59.
What was his connection if any to the Morgan family and Godfrey in particular? I'm still checking American newspapers and articles so watch this space.
Monty Dart