Local History Day at Newport Reference Library October 1st 2011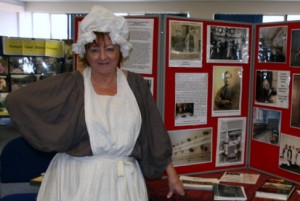 The Friends of Tredegar House were invited to have a stall at the city centre Reference Library. On one of the hottest days of the year, Ruth, Annie and Monty arrived  to talk to people about the Friends of Tredegar House.the display boards had an Upstairs Downstairs theme as recently – notably because of the FOTH website,we have had contact from a number of relatives of Servants and Workers who once served at Tredegar House.
 they have sent us photographs and accounts
(which obviously I share with TH)
 Whilst we had the Morgan Family on one set of boards the other was devoted to Servants and Workers.
Keep the information coming in folks.
Annie and Ruth went into John Frost Square in costume, with leaflets and brochures for Christmas at Tredegar House and brought in people who were unaware of the event, the Library Staff were very impressed with that. We had a good day  hard work, we never stopped and we hope that we have signed up some potential new members and raised awareness of Tredegar House in general.
Many thanks to the Reference Library staff to say for the opportunity of being involved in the event and the cups of tea and coffee they provided. Well over 100 people came to the event (not including those using the Reference Library). It has been judged a great success and plans are already in place to make it an annual event. Other organisations taking part were
Newport Local History Society, 14 Locks, Oxford House Museum, Risca,Monmouthshire Railway Societyand a display of Cashmore  from Gwent Family History Society.
 However, we were without doubt the busiest stall.         
By:- Monty Dart

R