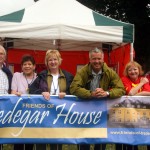 No, we haven't taken up dancing – this was our experience at Parklife today. Having set up the stall, the rain started – heavily. Neither we, nor Oliver (Museums, next door tent) had walls. All very wet, Oliver went to look for walls for both tents. He returned, 'They can't find them.' Then a voice came over the microphone, 'If you need walls for your tent, can you come and collect them?' Off trudged Oliver. Returning, 'The person on the microphone doesn't know they can't find the walls!' Again we heard, 'If anyone wants walls …' The rain having stopped, we got our stuff out again.
Judith and David arrived and, using that well known Heath Robinson invention of two large sticks and gaffer tape, got the banner up at the sides. Then a sudden wind took our boards away – accompanied by assorted leaflets. David went on a mission for the missing walls. Judith pointed out that the Mayor was getting rapidly nearer, and, as President of the FOTH, wouldn't want to see soggy leaflets. 'Or have to balance the display boards on his knee to view them,' said Monty.
Eventually two men arrived with some Guantanamo orange walls and said, 'We did call over the microphone for you to collect them,' but beat a hasty retreat before we, or Oliver, next door, could lynch him. When Annie arrived, with the sun, we got our displays three quarters outside where they could be seen – and many people came to chat about the House and Friends.
Suddenly it rained again, so everything went back in. Alan and Ruth arrived and as we were fully staffed I went for a wander. Not a yard away, I saw Derek Brockway, the BBC Weatherman. Photo opportunity, I thought. He was on the way to sign his new book but promised to come back – and true to his word, he did – and then the sun came out again – well, it would for Derek wouldn't it! Many thanks to Judith and David, Annie, Alan and Ruth on the Friends of Tredegar House stall.
Monty Dart