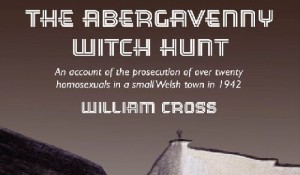 Latest New Book From William Cross : Now Available
Scandal from South Wales in the Second World War
The Abergavenny Witch Hunt
An account of the prosecution of over twenty homosexuals in a small Welsh town in 1942
The book will feature in the Abergavenny Chronicle
All profits from the book go to an Abergavenny Charity in memory of Lewis Matthews of Abergavenny, a promising nine-teen-year old who committed suicide by throwing himself under a train in 1942.
The details of the book are below
The book can also be purchased from the Abergavenny Book Shop ( Brian Hughes ) Cross Street,
Abergavenny,
Directly from the Author £12.00 including UK postage and packing
On Amazon ( slightly higher priced ).
Review Copies Available for press, bloggers ( who review books) etc etc
ISBN 10 1-905914-22-9 and ISBN 13 978-1-905914-22-7
Published by William P. Cross through Book Midden Publishing
58 Sutton Road, Newport, Gwent, NP19 7JF
United Kingdom
Normal Listed Price £12.00 UK ONLY + Postage and Packing
Cheques/ PO made payable to William Cross
58, Sutton Road, Newport, Gwent, NP19 7JF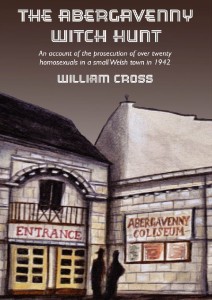 In 1942, the Welsh town of Abergavenny was scandalised by disclosures after the arrest of over twenty youths and men on charges relating to homosexual activity and corrupting boys. George Rowe, the 40-year-old manager of Abergavennys Coliseum cinema was at the centre of a Police enquiry after one of the page-boys complained about being molested. The boys complaint turned into a witch-hunt of  homosexuals across Britain revealing a oddball mix of abused and abusers; a farmer, a clerk, two chefs, a fireman, several serving soldiers, a hairdresser, an actor and others were arrested and brought back to Abergavenny, where almost all the offences were committed.
Before the case reached a Judge at Monmouthshire Assizes, three men attempted suicide, one young man succeeded in taking his own life. In the years that followed rumours persisted that several people had got away scot-free, including one notable public figure. Others went on the run to escape capture and disgrace, since all homosexuality was illegal in Britain until the changes started by the Sexual Offences Act, 1967.
William Cross the biographer of Almina, Countess of Carnarvon, and of salacious tales about the Morgans of Tredegar House, Newport, South Wales, is no stranger to controversial histories. Cross examines the facts in the Abergavenny case and sets out details from contemporary newspapers including closed files at National Archives, now released under the Freedom of Information Act. Here for the first time is the unvarnished truth, the background, the preliminary proceedings, the trial and the aftermath of a grisly, but sad tale from Abergavennys' past that some would prefer to see buried forever.