Local historian Steve Barber tells the story of The Murder at Tank Cottage

MURDER MOST FOUL AT TANK COTTAGE  in Bassaleg in 1909
Standing within the graveyard of Bethesda Chapel, Rogerstone is the weathered gravestone of Charles and Mary Thomas, who are simply described as having died in Bassaleg on November the 11th 1909.

  IN LOVING MEMORY
-OF-
CHARLES THOMAS
WHO DIED AT BASSALEG
NOV. 11TH 1909
AGED 82 YEARS
ALSO OF
MARY THOMAS
BELOVED WIFE OF THE ABOVE
WHO DIED AT BASSALEG
NOV. 11TH 1909
AGED 72 YEARS
The facts stated on the gravestone are basically true, but what it does not explain is how they died.  The unfortunate couple were, in fact, discovered brutally clubbed to death, with their heads battered almost beyond recognition, in their very own bed, at Tank Cottage Bassaleg.
Mr. Thomas who had only been a pensioner for just two weeks, had formerly worked as an assistant to the Woodman on the Tredegar Estate.  Prior to dwelling at Bassaleg the couple had lived in the Main Lodge of Tredegar House, on Cardiff  Road. Mrs Thomas, for some reason, decided that she did not wish to be involved with opening the entrance gates for visitors.  It was then decided to move the couple to a vacant cottage at Bassaleg.
 On Monday the 15th November, one William Butler, who was initially described in the South Wales Argus as being a 78 year old Crimean War veteran, was arrested and charged with the murder.  Butler had lived in Bassaleg from 1906, being employed at the Tredegar Arms to do odd jobs.  He was also known round Bassaleg as a general labourer and gardener.  He claimed to be a tiler and plasterer.  Investigations showed that his real name was William Clement and that he originated from Nebley in Gloucestershire, and was actually sixty-two years old.
It transpired that he had a past record of crime over a period of some 40 years, and had used the aliases Butler, Palmer, Clements and Brown.  His criminal record indicated that he had been sent to prison for theft at Glamorgan, Gloucester, Monmouth, Brecon and Winchester assizes at various times.
He had been lodging with the respectable West family, in a house now occupied by 22 Caerphilly Road, just two doors away from Tank Cottage.   Both Tank Cottage and the adjoining property, Woodland Cottage, were demolished after the murders, in 1910 and 1911 on the instructions of Lord Tredegar .  The site has been since built over by a single and more modern property, originally constructed for the use of the Curate to St Basil's Church.
Butler had been charged with threatening behaviour to a young female member of the West family, and was due to appear at Pentonville Court Newport on Saturday the 13th November.  It was suggested that he hoped to steal money from Mr. and Mrs. Thomas to pay for his defence.  The Thomas's were rumoured to possess a small 'hoard of gold', but only a tiny amount of money had been found on Butler's person.
 Some six weeks before the murder, when Butler had fallen out with the West family he moved to live at James Terrace, Pye Corner with a Robert Doody.  He had, whilst there, uttered threats against his former hosts the Wests, and one unlikely suggestion was that he stupidly hoped that they would be blamed for his  violent crime.
His trial, at Monmouth, took two days and evidence against him included  a cut thumb and a bloodstained coat.  On the 22nd February the jury took just ten minutes to find him guilty.  Mr. Justice Grantham donned the black cap and sentenced him to death by hanging.  It was reported that Butler furiously made denunciations against the witnesses and fought with his warders "like a ferocious caged animal".
He later appealed against the death sentence but this was rejected on the 11th March, and he was subsequently executed at Usk Prison, by Messrs. Ellis and Pierpoint, on the 24th March 1910.  Right to the end, Butler, continued to plead his innocence.
The actual inquest on Mr. and Mrs. Thomas was held locally at the Tredegar Arms, where the Chairman of the Coroner's jury was the well known Mr. John Basham proprietor of Fairoak Nurseries.  The weapon used to bludgeon the unfortunate couple to death was never found or identified.  The very water tank that the cottage took its name from was actually drained in the fruitless search.
Mr. and Mrs. Thomas's funeral took place in November 1909 and was fully reported in the local press.  The couple had been regular and respected members of Bethesda Chapel in Rogerstone, so the funeral took place there.  The cortege slowly passed along the roads between Bassaleg and Rogerstone, which were lined with many people who had travelled from miles around, and blinds on all houses were drawn as a mark of respect.  When the procession reached Bethesda it was found that the number wishing to attend the service was many more than the chapel could hold.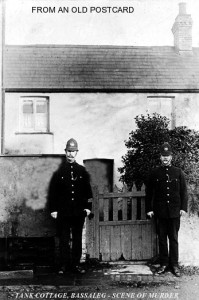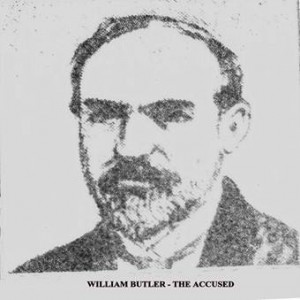 This horrible double murder became so famous that eventually a ballad was composed – The Ballad of Tank Cottage, here it  is:
At Bassaleg, near Newport on a cold
November's day
A double murder took place,
both victims old and grey
Through Newport and for miles around,
the news it quickly spread
How Charles and Mary Thomas, were
found murdered in their bed.
William Butler has been sentenced,
his time is drawing nigh
For the cruel double murder, on the
scaffold he must die.
That cruel crime at Bassaleg, filled
many hearts with gloom,
Found guilty, William Butler will
soon meet a murderer's doom.
Though no one witnessed that foul
crime, the evidence was clear,
When he's led forth to meet his doom
no one will shed a tear.
The story of that brutal crime, it
makes the blood run cold
He murdered that old man and wife
just for the sake of gold.
That villain was arrested, and there
can be no denial,
Before a Judge and jury he has had
a patient trial.
He need not look for mercy, no mercy
did he give,
Such villains are not fit to die, nor
are they fit to live.
The record of that old man's life, is
one that's full of crime,
And many a gloomy prison cell he has
entered in his time.
Against the laws of God and man, he
often went astray
But for his last and double crime,
Death's penalty he'll pay.
That double crime at Bassaleg will
long remembered be,
That Butler was the guilty man,
'twas very plain to see.
His life must pay the forfeit, no use
to curse and rave,
The blood of his poor victims, calls
vengeance from the grave.