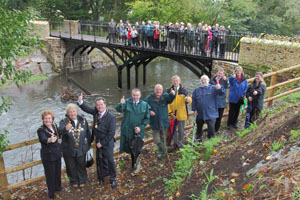 Newport and Caerphilly bridge the gap
From News Wales
Section Environment | Published on 12 Oct 2011
Newport and Caerphilly's mayors yesterday met in the middle of a historic bridge which links their areas.
Iron Bridge, near Draethen, was built over the River Rhymney in 1829 but was closed to the public in 2008 because of its deteriorating condition.
It has now re-opened following a programme of restoration carried out by Newport City Council and Caerphilly County Borough Council with grant funding from Cadw, the Heritage Lottery Fund (HLF) and Countryside Council for Wales.
Newport's Mayor Councillor Margaret Cornelious, who walked from the city's side of the bridge, said: "For almost two centuries, people used this bridge to cross the river until it sadly had to close because of damage to the structure.
"I am extremely pleased that it has been restored to its former glory and I hope it will be enjoyed by walkers for many generations to come."
Councillor Ron Davies, Caerphilly's cabinet member for regeneration and planning joined the Mayor, Councillor Vera Jenkins, at the ceremony.
He said, "I am delighted to see this magnificent structure restored to its former glory once more. The bridge's restoration has generated a lot of local interest and means a great deal to communities on both sides of the river".
The 16-metre span cast iron bridge was built on the estate of Lord Tredegar who commissioned it to provide access for horse-drawn vehicles and pedestrians from Ruperra Castle to and from the church at Lower Machen and the surrounding area.
It forms part of a circular walk which takes in other places of interest including Ruperra Castle, St Michael and All Angels, Plas Machen and Craig Ruperra summer house.