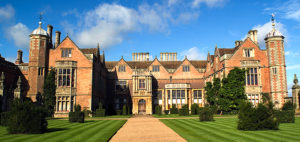 DAY TRIP TUESDAY 13TH JUNE 2017
Our summer day trip this year is  to  Charlecote Park, Wellesbourne, Warwick. Charlecote Park has been the home of the Lucy family since the 13th century.   It is  a magnificent  Tudor  mansion  beside  the River Avon, on  the  foundations of  an  even earlier medieval house.
Queen Elizabeth I is known to have visited the house, and stayed in the chamber that now serves as the drawing room.
The Lucy family came to England as supporters of William the Conqueror, and the family has owned'land at Charlecote since 1247. Sir Thomas Lucy (1532-1600), the builder of the current house, was a magistrate under Elizabeth 1. In the course of his duties he was responsible for prosecuting local families with Catholic sympathies, including the Arden family, William Shakespeare's maternal grandparents.
Tradition says that William Shakespeare was once caught poaching deer on the Charlecote Estate. This tale may well be true, as the estate lies close to Shakespeare's family home at Stratford. The story goes that Shakespeare was forced to flee the area to avoid prosecution by Sir Thomas. The young playwright escaped to London and the rest, as they say, is history.
Eating and shopping: The Orangery serves a range of meals and light snacks. The Servants Hall gift shop and Pantry  shop  sell a range  of specific and  locally sourced produce.   Picnics welcome.
We will be leaving Tredegar House Car Park at 9.15am prompt. Arriving At Charlecote Park approximately 11.30am.
ADMISSION  PRICES –
House and Garden including coach……………………………………..£24.60 each
Coach only for National Trust members……………………………….£14.60 each
BOOK EARLY SO AS NOT TO BE DISAPPOINTED.
BALANCE REQUIRED NO LATER THAN_ 6 WEEKS PRIOR TO TRIP –
3RD  MAY 2017.
Contact Judith Rice: