From Monty Dart the archivist for the Friends of Tredegar House.
 Recently I received an intriguing email from America
 'I am the current Historian for the South Dakota School of Mines and Technology's (SDSMT) American Society of Civil Engineers (ASCE) chapter.  Our chapter recently acquired what appears to be a cigar cutter from the Newport Transporter Bridge.  An alumni of SDSMT bought this cigar cutter at an antiques store and had it on his mantle for several years.  In 2007 he donated it to SDSMT.  He recently sent us a letter and was wondering if we still had it.  We found it.  The alumni would like us to get it to someone who will appreciate it, hopefully its rightful owner.'
 Attached was a photograph of a magnificent silver cigar cutter with a request to know more about the Transporter Bridge, Godfrey Morgan and Tredegar House. I was pleased to send the American Society of Engineers a film about Tredegar House and coincidently, as I am also the archivist for The Friends of Newport Transporter Bridge I could send details about the Bridge and the Opening Day.  This is where the cigar cutter comes in, it was presented to Godfrey as a memento of the opening of the Transporter Bridge by the Contractors – Alfred Thorne Ltd. This newspaper article mentions it as a 'silver controller'. It was so called because the little handle that opened the cutter is an exact replica of the handle Godfrey used to start the Transporter Bridge!
 Just a week after our initial correspondence by email I received a surprise parcel from America. Our generous friends from South Dakota had sent the unique artefact, a real piece of Newport history.  I have accepted it 'on behalf of the people of Newport' and the Friends are discussing where best it could be displayed.


This animation of both the cigar cutter and the Transporter Bridge in action
was made by Tom Dart for the FOTH website.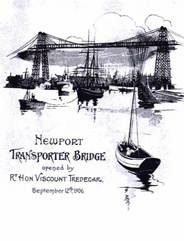 Link to Mary Courtney MBE 101st Birthday and Presentation
of Cigar Cutter to the Mayor(click here)
If you would like to know more about the Transporter Bridge visit  via the link  in Sites of Interest