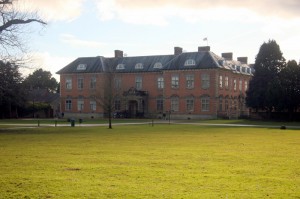 Tour With a Difference.
Whereas everybody is familiar with the inside of Tredegar House, on the 28th July, for a change, we were given a tour of the OUTSIDE. Beginning near the Brew House, Paul discussed the original functions of the outbuildings and how different the walk from the public car park is today. This used to be the prettiest cricket pitch in Monmouthshire, where the Tredegar Park team, made up of estate staff, played. The Greater Barn and Lesser Barn used to be one gigantic barn before a fire in the middle in the 19th century. Now the staff car park separates the two buildings.
In the Cedar Garden we considered the exterior of the house and discussed a few architectural curiosities, such as the Bath Stone swags of fruit underneath the first floor windows: these are extremely rare and similar decorations can only really be found on Amsterdam Town Hall. A discussion of Sir Briggs' monument lay to rest an old legend that he was so named at the Charge of the Light Brigade when he received a Russian sabre cut and was knighted. Apparently, he had been 'Sir' before this heroic adventure. We then walked through the Orangery Garden and into the Stable Yard, once called the Coach Washing Yard, where in later years Lord Tredegar stored his impressive collection of motor vehicles. On the exterior of the stables the columns, or pilasters, are actually depictions of 'heel posts' that divided stalls in stables, to show that although the building is remarkably grand, it is indeed a stable block. In the 17th century such heel-posts would often be ornamented at the top with carved wood or stone acorns or pineapples.
The Riding School was often used for social occasions like the start of the Tredegar Hunt. During the school years this was the gymnasium, which must have been bitterly cold on a winter's morning! The Riding Stables with intact stalls were used by the British Army in both the Crimean and Boer Wars.
The evening, which ended with wine and nibbles prepared by our Maureen Butterworth and her helpers, was enjoyed by all.