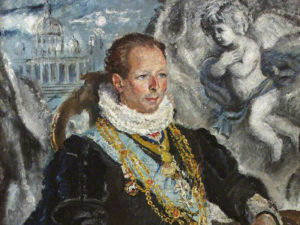 NEW BOOK
by
Will Cross and Hon. Evan Frederick Morgan
Synopsis of the book.
Evan, Lord Tredegar  Further Letters and Prose Pieces with Anecdotes about Evan


This second literary compilation from Evan Morgan's biographer William
Cross offers more interesting letters and several curious prose pieces
that adds weight to those already swept into the anthology " Evan, Lord
Tredegar, Selected Letters, Prose and Quotations: The Mystic Muse of Evan
Frederic Morgan" ISBN 978-1905914-33-3, published in 2015.
Among the letters included are those to the Welsh artist Augustus John, to
The Archbishop of Cardiff, Francis Mostyn and to Marie Stopes who was
involved with Evan and others in the campaign to try to secure a pension
for Lord ' Bosie' Douglas. Other nuggets include two odd-ball letters
featuring Evan from Aldous Huxley – his friend from the tragically
insecure days spent at Lady Ottoline Morrell's Garsington Manor during
the Great War. Here too are the letters from Evan to Frances Stevenson,
David Lloyd George's private secretary and mistress; Frances later dubbed
Evan " a hopeless liar and thoroughly degenerate". The new prose pieces
include Evan's essay on " Youth", his personal views of what men and
women of the 1920s would have made the ideal Prime Minister's inner
Cabinet, and a curiously vain piece about " This Age of Vulgarity" as
well as an equally heady essay entitled " I Believe in the Roman Catholic
Church". Light relief is provided with a cache of anecdotes about Evan
some true, others that need to be treated with caution.
This very limited issue is a 'must have' title for Evan fanciers as well as
anyone studying the past, social history and eccentric personalities of
the era of the pre – WW2 world not only amongst the privileged classes.
 Copies available by post direct from author are £7.00 including p &p UK only. The book is also on AMAZON.  Limited Issue Signed by the Author.
ISBN 10 1-905914-38-5 ISBN 13 978-1-905914-38-8
Published by William P. Cross
Book Midden Publishing
58 Sutton Road Newport Gwent
NP19 7JF United Kingdom