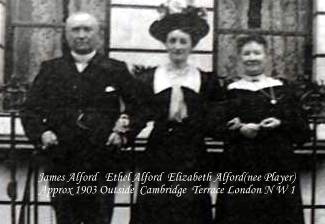 We recently received this wonderful account of The Alford family from Judith Coupar – it tells us of George Gould Morgan – George is part of The Morgan family we do not ever hear of.  It is very intersting account.

My name is Judith Coupar and I live in Perth Western Australia, having migrated here with my parents in 1949, aged 3 years.  My great grandfather, James Alford, was butler to Godfrey Charles Morgan, 1st and last Viscount Tredegar from about 1875 to about 1914. 
When Viscount Tredegar's mother, Lady Rosamund Morgan (was made Baroness Tredegar on 16 April 1859 died in 1883), he was was installed in one of the Morgan family's London houses (11 Cambridge Square, Hyde Park) to look after Lord Godfrey Morgan's youngest brother, George Gould Morgan (born 15.9.1845, died 3.3.1907). he carried out his duties for almost 27 years.
George Gould Morgan was physically and mentally impaired,  
I do not believe James and Elizabeth Alford returned to Tredegar House following George Gould Morgan's death in 1907 as they continued to live at the Cambridge Square House even after "Godfrey the Good's" death in 1913, and probably until their deaths in the 1920/30 era.  This London house continued to be  used by other Morgan family members and acquaintances when they visited London, and George & Elizabeth Alford "kept" this house for the Morgan family, along with another housekeeper (Ada Spendlove) who lived with them there, and whom James Alford "hired" at the age of 15, when, in 1885, he found her crying on the steps of the Cambridge Square house, asking for a job.

Ada Spendlove lived with our family for 60 years, never married, looked after 3 generations of our family, and died at our home in Hanwell, West London,  on Christmas eve, 1945, when I was one month old. 
James Alford married a dairymaid, Elizabeth Player in March 1885 and they had an only child, Ethel Alford, my grandmother.  Ethel was born in December 1885 whilst they lived at the Cambridge Square address and she only left there when she married John Douglas on 30 May 1914.
 
Ethel told us that it was quite a task for her parents, looking after the Hon. George.  He was prone to fits and was quite gullible.  Apparently, the housemaids along Cambridge Square would "egg him on".  George had no sense of values, giving sometimes expensive presents and then, just the stub of a pencil.  Ethel also said he would often say ….. "Pack my bags James.  I am going to elope".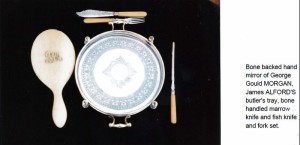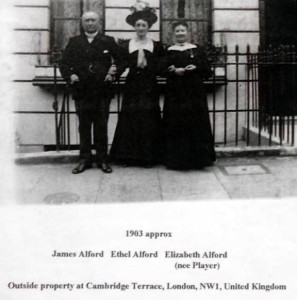 FROM THE ARCHIVES
Hon. George Gould Morgan was born on 15 September 1845.1 He was the son of Charles Morgan Robinson Morgan, 1st Baron Tredegar and Rosamund Mundy.1 He died on 3 March 1907 at age 61, unmarried1.Hon. Fanny Henrietta Morgan+3 d. 2 Sep 1887
2.Hon. Georgiana Charlotte Morgan4 d. 22 Apr 1886
3.Hon. Mary Anna Morgan+3 d. 14 Aug 1924
4.Hon. Selina Maria Morgan1 d. 31 Mar 1922
5.Hon. Rosamond Marion Tredegar+3 d. 15 Jan 1883
6.Charles Rodney Morgan1 b. 2 Dec 1828, d. 14 Jan 1854
7.Godfrey Charles Morgan, 1st and last Viscount Tredegar1 b. 28 Apr 1831, d. 11 Mar 1913
8.Hon. Frederic Courtenay Morgan+1 b. 24 May 1834, d. 9 Jan 1909
9.Hon. Ellen Sarah Morgan+5 b. 1836, d. 19 May 1912
10.Hon. Arthur John Morgan1 b. 27 Aug 1840, d. 9 Nov 1900
11.Hon. George Gould Morgan1 b. 15 Sep 1845, d. 3 Mar 1907