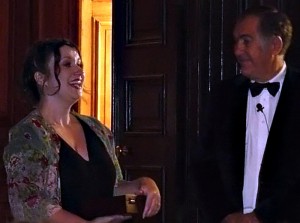 Emily Price Curator of  Tredegar House – welcoming Mr. Michael Smith
ITEMS RETURNED FROM AUSTRALIA – May 2010
A wonderful collection of items relating to the Morgan's & their servants had been offered for sale.  The various items  offered by private sale had  the asking price of £10.000 – which The Friends have raised & the items below were returned to Tredegar House in May 2010 by Michel & Jeannette Smith.  The curator Emily had corresponded with Michael & Jeanette Smith for 4 years and it was so good for her & The Friends to meet evenutally with them.  An evening was arranged for members to view the items prior to being catalogued. Michael entertained the full New Hall with many stories of his memories when he was a young boy and visited the house.  The fantastic collection has now been documented, and most pieces have aready gone out on display around the House.  These include the telescope which has been put in front of the portrait of Courtenay Morgan holding that same instrument , and the tea service which Mrs Williams the Housekeeper gave to the donors parents when they got married.  Hopefully items such as the Cartier watches will be on display next season.

In May the collection of some 60 objects which the Friends bought for the house returned from Australia.
Personal Asprey London leather travelling case and contents, including two bedside clocks

Small Asprey London matching leather box containing gold and pearl shirt studs

Mother of pearl personal domino set (miniature set, in case) -Evan

Two Braille Cartier watches

One white pearl mounted on gold base, back-collar stud; three black pearl front shirt studs; three amethyst/gold front shirt studs, for formal wear

Poaching stick.

Horse (Hands) measuring stick – Evan's staff

Two hard cover books given to my late father by Evan and personally autographed.

T. Goode & Co, London, South Audley Street tea service (marked #6610) given to my parents by Mrs Maud Williams (Housekeeper) when they got married on 8 August 1935.

Cutlery set given to my parents by Evan when they got married

Small diamond and ruby red gentleman's tie pin which is a replica of the Royal Yacht Squadron pennant: yacht "The Liberty" was a member

One button from Courtenay's jacket showing anchor with Tredegar crest above – ex "The Liberty".

Telescope from the yacht "The Liberty"

Brass clock and barometer set from "The Liberty" (items 13 and purchased by Henry Smith when the ship was broken up at Newport docks)

Mini opera monocular

Lightweight brown Malacca wood cane with gold top – used by Courtenay when eyesight was failing

Assorted bone handled two pronged cutlery – circa 1700's

Three very large ornate wine glasses – circa 1700's (claret)

Number of A4 professional black and white photographs showing Tredegar as it was in its prime

Photographs of "Old Sayzeland" (William), by himself and one with his wife and son.

Photographs of Henry Smith with Blue Boy and one with Blue Boyby himself sitting on large flower pot

Photograph of Jack Holloway (Head Gamekeeper) with his family.
AND MORE……….