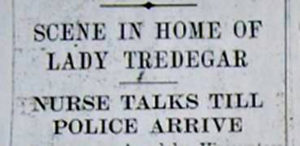 A nurse employed by Viscountess Tredegar i(Lady Katharine Morgan) Grosvenor Square, Mayfair, stated at Marlborough Street yesterday that while she was sitting in the drawing room at 4.30 a.m. a man walked in. She gave him tea and talked to him until the police arrived. William David McCoy, 22, house porter, no fixed address, was committed for trial accused of burglary breaking and entering promises and stealing property worth £25.
The nurse, Miss Annie Fraser, said that McCoy put his head around the door and walked into the room. She got up and he said 'I have broken into your house.'
'I asked him what he wanted' said Miss Fraser. 'He said 'I have been out all morning looking for a job, and I am so desperate and hungry. I want some food.'
'I asked how he got in and he said 'I got in through a window downstairs beside the kitchen. I saw a light upstairs and came to see who was there.'
'I invited him in to have some tea. He said he would like some food as he was hungry. He smoked a cigarette. I went to the parlour-maid's room and told her what had happened and asked her to inform the police. I came back to the drawing room and gave the man tea. We sat and talked a bit, and then the police arrived.'
Miss Fraser said that she noticed later that a silver box, a wireless set and a clock had been removed. These articles were worth £25. Drawers in the dining-room had been opened and their contents disarranged.
Police Constable Hickmott stated that McCoy said to him 'I could have got away if I liked.'