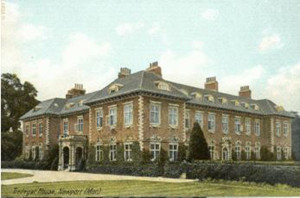 William Downing Evans was born in Caerleon Monmouthshire in 1811. He had moved to Newport by 1837 and lived there until his death in 1897. In 1837 he was appointed Registrar of Births and Deaths for Newport and Deputy Clerk of the Board of Newport Poor Law Guardians – both positions being unpaid at that time.
In 1845 he made a clear case for the importance of implementing a proper policy on public health.
William was well known in his time as a poet, composer and painter going under his Bardic name of 'Leon'. Read the book published by the South Wales Record Society: www.southwalesrecordsociety.co.uk
With thanks to Benjamin Robert Tubb, Finale Music Engraver
Owner of Public Domain Music,
Email: brtubb@pdmusic.org,
Website: www.pdmusic.org'
For permission.
Link to Ifor Hael and connections to the Morgans of Tredegar House