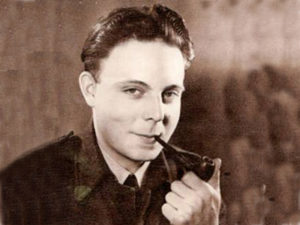 Cyril Highman(1922 – 2016) – an   appreciation.
Cyril Highman, who died on 4th December 2016 after a long life well lived, was one of the founding committee members of the Friends of Tredegar House. He was a man of integrity, humour and kindness – and my uncle.
He began life in Tredegar and the family moved to Newport in 1932. Cyril attended Newport High School and at the age of 15 sat the  entrance exams for the Civil Service – something that his father decided would be a good career for him. It meant moving to London to take up employment in the Home Office. He would often talk about the fact that his father had decided his career. He had no complaints about that, saying that of course in those days a steady job, with a good retirement pension, was the dream of   many.
With the outbreak of the second world war, Cyril was keen to join up   and applied to the RAF to work as a radio mechanic. He was eventually released from his reserved occupation work at the Home Office in 1942. Most of his time in the RAF was spent at various stations in the UK working with radar, but his unit was sent to Germany at the end of the war. He was there for some months and the sights he saw made a very deep impression. He had loved German lessons while at school thanks to the teaching of Mr. Dawson and had had a German landlady  at the start of his working life in London.
On his return to the UK he was diagnosed with tuberculosis and was sent to the sanatorium at Cefn Mabley, where he spent 18 months and where he met his wife (also a patient), my father´s sister Betty, who was a Newport  girl.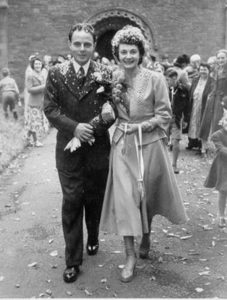 Fortunately, Betty and Cyril both recovered and they were married in 1949 at St. Marys Church Malpas, Newport.
Much of their married life was spent in Walton-­‐on-­‐Thames to accommodate Cyril working in London, but the pull of returning to Newport was too strong to resist when a job possibility arose for him. On his return to Wales, Cyril became involved in various societies. He was the secretary of the Newport Civic Society for many years and   both he and Betty were keenly involved in the Friends of Tredegar House from the very beginning of the Society. He was meticulous in keeping records for the Friends and was secretary for a number of years. He had always enjoyed learning about local history and put this interest to very good use with these societies. He was also one of the first supporters of the Ruperra Conservation Trust.
His fascination with technology – radar, hi-­‐fi equipment (building his own speakers at an early age) -­‐   also meant that he  was very  interested in computers. I remember that when he bought his first one he asked someone to come and tell him about the workings – and he meant  the  technical  workings  rather  than  how  to  operate  the machine! It was a wonderful form of communication for him in later years and he used to keep the family up to date with each other by passing on various emails we had written to   him.
We are fortunate that he decided to write his memoirs, (dealing with the years from 1922 – 1949)which make fascinating reading and are even more impressive as they were written when he was in his eighties without recourse to diaries or journals, which he never kept. He loved cycling, regarding it as one of the best forms of transport,   and his longest trip was from Barnes to South Wales over a period of two days in 1940. Music was another love, especially popular songs from the famous Big Band era of the 1940s.  He was a fine pianist himself. Cyril also enjoyed listening to Welsh hymn singing, no doubt due to his Methodist  background!
One of the letters of condolence after his death described him as a man with an "historic memory, and a precise, properly concerned constitutionalist who would have made an excellent local government official". In a way Cyril could be said to have taken on some of that  work in a voluntary fashion. Two examples are his involvement with   the Blue Plaques scheme for the Newport Civic Society and the fact     that he never feared to write to the South Wales Argus if he felt a point needed making.
His mental ability, kindness and humour were with him to the end. We will miss him!
Helen Davies
Many thanks to Helen for providing this lovely account of her uncle Cyril for Friends of Tredegar House