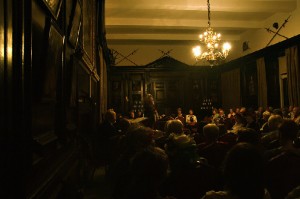 TROUPERS MUSIC HALL
In The New Hall at Tredegar House
Wednesday 22nd September 2010
A packed New Hall, many in the audience in the dress of the period, were enthralled and entertained
by Troupers Music Hall For two hours, filled with song and comedy and audience participation.
Hosted by Derek Richards together with The Troupers:
Mrs. Anne Price-Jones
Mrs Sue Morgan
Mrs Sharon Davies

Mr. Don Smith
Mrs. Eira Richards
Ms. Jeannette Massotthi (Musical director)
At the interval refreshments were served.  A good time was had by all.