Aspects of Evan: The Last Viscount Tredegar
A New Book >From Monty Dart and William Cross
With a full transcript of Evan's Court Martial for offences against the Official Secrets Acts
About The Book
Morgan, poet, artist, and escapist, the last Viscount Tredegar shocked his way through 
Eton, Oxford, Rome, North Africa, Bali, Canada and America.
The Bright Young Things of London's Café Royal Society toasted him in aphorisms.
Ogling dowagers indulged him
Whilst his straight-laced  'hunting, shooting and fishing' family was shaken by his escapades.
In the Great War he dodged rat-infested trenches on account of a weak chest.
Claiming he was renouncing pleasure and his birth right,
He turned to mysticism and Roman Catholicism, studying at Beda College, Rome,
Whilst acting as a Papal Chamberlain at the Vatican.
In WW2 he was working at Wing House, in the Special Section Carrier Pigeon Service.
An incautious comment in front of two visitors from the Girl Guide movement
They were at Wing House as part of a  publicity campaign for the Guides lead to his downfall.
The irony is, that Evan, who claimed a special affinity to birds,
Should be brought down to earth by a carrier pigeon!
This book will amuse and inform 'Evanites'
With nearly 500 footnotes for scholars who wish to follow up his erratic but fascinating life.
An Extract from 'Aspects of Evan' : An Eccentric and a Fantasist
Evan Morgan was one of the Bright Young People. In the years between the two world wars of the last century he rejoiced in being a part of that irreverent faction of well-off, immoral pleasure seekers who sought unlimited thrills, with little care for the consequences of their own actions.  Stephen Fry's film Bright Young Things  captures the high spirits and high jinxes of the toffs, like Evan, with nothing better to do with their lives than to indulge themselves and each other. Evan is seen by one historian as just an "onlooker"  ,  but he  cherished being  dubbed by another scribe  " a leader and inspiration of the Bright Young People."  He was always on "bowing terms"  with all the "fatuous, smirking male-flowers"  of that "gin-soaked, jazz-syncopated, frivolous time." Evan surely remains one of the fabulous aristocratic eccentrics of that bygone age of the hedonistic 1920s and 1930s, when he was best known as the Hon. Evan Morgan or Evan Tredegar.  His own creation, he was a seemingly unstoppable fantasist whose antics are captured in anecdotes, references and footnotes in a galaxy of memoirs and diaries of his often more acclaimed and better achieved contemporaries.
http://evan-morgan-last-viscount-tredegar.yolasite.com/
Aspects of Evan published on 10 December 2012

Book Midden Publishing – ISBN 10  1-90591415-6/ISBN 13  978-1-905914-15-9
For further information contact William Cross, by e-mail
williecross@virginmedia.com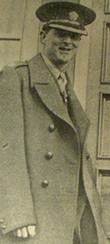 For anyone who desires a novel-size glimpse of  the incomparable Evan, he is caricatured in several books, for instance in comical terms as Ivor Lombard in Aldous Huxley's Crome Yellow and more extraordinarily and farcically as the Hon. Eddy Monteith in Ronald Firbank's satire The Flower Beneath the Foot.
This link will guide you to the digital book, which you can read on line or download.