The Original War Horse.
A visitor will find the grave of Sir Briggs in the Cedar Garden of Tredegar House.
The Friends of Tredegar House, are so pleased to announce:
that after consultation With The National Trust
We are to provide funds for the restoration of the grave,
Which is now completed

The inscription reads:
In Memory of Sir Briggs
Favourite charger. He carried his master the Hon. Godfrey Morgan, Captain 17th Lancers boldly and well at the Battle of Alma, in the first line of the Light Cavalry Charge at Balaclava and the battle of Inkerman, 1854.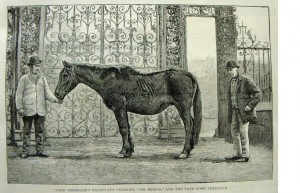 He died at Tredegar Park February 6th 1874. Aged 28 years.
Sir Briggs was bought in 1851, the same year he won the hunt Steeple Chase at Cowbridge. When the Crimea war broke out, the most sensible thing would have been to send horses and men by steam ship to the Black Sea. It wasn't to be. Sir Briggs set sail from Portsmouth in 1854 on board the Edmundsbury, a sailing ship carrying forty horses, four of which belonged to Godfrey. They lost horses to seasickness. 'Atheist' Captain Morgan's 2nd charger died and was thrown overboard. Other horses continued to die.
The vessel stopped briefly at Malta, and by 19 May had reached the Dardanelles. The vessel anchored at Constantinople for four days. The regiment had lost twenty six horses, and others continued to die.
The troops then embarked for the Bulgarian port of Varna. The Bulgarian phase ended when the Turks took Silistria, and the Russians retreated.
At the Crimea, the cavalry remained largely inactive. It was not until Balaclava, that bloody action was seen. The exact numbers taking part in the charge is controversial, and put between 661 and 673. After the charge only 195 came back. Sir Briggs received a sabre cut to the forehead.
Inkerman followed. Horses became 'hog-maned' and 'rat-tailed'. Many died from starvation.
Godfrey Morgan became sick and returned to Constantinople. Sir Briggs remained in the Crimea with his brother Frederick Morgan, and was used as his staff horse. In the same year that Sebastopol fell, Sir Briggs won the military steeplechase at Sebastopol.
In 1855 Sir Briggs returned to Tredegar House, where he was finally buried.
Article by Monty Dart
National Army Museum article about Sir Briggs (click here)