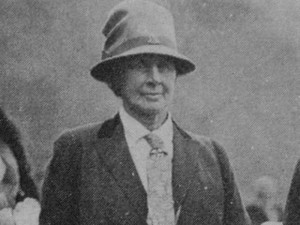 No 'Shrinking Violet' by Monty Dart
The Hon. Violet Wilhelmina Morgan was born on 23rd September 1860 at Ruperra Castle. She was the daughter of Hon. Frederic Courtenay Morgan and Williamson. From a young age she became a keen horsewoman, in fact she followed the male Morgans in their love Charlotte of outdoor pursuits, hunting and shooting. In the portrait by John Charlton at Tredegar House, she can be seen on horseback, sitting behind her father Frederic – with a view of Ruperra Castle in the background. (Click here for painting at Tredegar House) She produced a book of hunting sketches in 1890 a copy of which is in Newport Reference Library (see link at the end of this article). On 28th August 1894 Violet married her first cousin once removed, Basil St John Mundy, at St James Church, Piccadilly, London. The wedding was described in the Cardiff Times – 'the bride wore a wedding gown of the richest white duchesse satin, trimmed with antique Brussels lace' 'The hymn 'Near my God to thee' conducted her, accompanied by her father, to the chancel rails. She looked handsome in a wedding gown of the richest white duchesse satin, artistically trimmed with antique Brussels lace, and full court train of the newest design. Her fine tulle veil covered a small wreath of orange blossoms intermingled with myrtle, her only ornament being a diamond and turquoise brooch, the gift of the bridesmaids and she carried a choice bridal bouquet of white blooms, the principal part being of white heather, specially grown and sent from Scotland for the occasion, tied with satin streamers en suite. There were only three bridesmaids (nieces of the bride) Miss Daisy Hoare, Miss Violet Hoare and Miss Rose Hoare daughters of Mr and Mrs C. Twysden Hoare of Bignell, Bicester* who wore gowns of white Indian muslin, with cream Valenciennes lace over green satin. They also wore hats to match, ornamented with wide lace brims and loops of green satin ribbon. The bridegrooms present to them, as a memento of the occasion was pearl and gold swallow safety-pin brooches and 'nosegay' of selected pale pink carnations tied with streamers.'
Violet, Daisy and Rose were the daughters of Blanche Frances Hoare (nee Morgan, daughter of Frederic Morgan and Charlotte Williamson)
Basil her bridegroom was a Major in the King's Own 15th Regiment of Hussars.  In 1895 they were in Ireland with his regiment where their son, Frederick Charles was born on 8th March. He was to be their only child. In 1916 'Freddie' was wounded. He was awarded the Military Cross for his gallantry and devotion to duty, yet he returned to the seat of War, and was killed on 26th October 1917 and is buried at Duhallow, Ypres.
As Katharine Morgan, Lady Tredegar lived apart from her husband Courtenay for most of their married life, Violet as Courtenay Morgan's sister often took the role of 'Lady Tredegar' at Morgan family gatherings and public occasions. Violet and Basil Mundy had a home in Thornbury, Gloucestershire, where she was to live for the rest of her life.  He died on 26th August 1926 as a result of injuries sustained in the Boer War. Violet was described in 'Fifty Years of Racing at Chepstow' by Pat Lucas). 'Tall, usually dressed in black…she was as capable of putting a ferret down a rabbit burrow and handling a 12 bore gun as she was as following the hunt with nerve and skill which would put any hunting man to shame.'
This photo of Violet and Courtenay was taken at an annual ball at Tredegar House.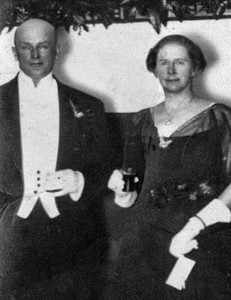 Violet was greatly respected in Thornbury where she and her husband Basil are buried. The last time I visited there the grave was a mass of fragrant wallflowers. Nearby is the grave of her companion Mary Mallis, 'In loving memory of Mary for 42 years – faithful servant and beloved friend of Violet Mundy. 1870 – 1931' When Violet died on December 22nd 1943 she left generous bequests to Thornbury
'The Hon Mrs. Violet Wilhelmina Mundy of Thornbury, Glos. Widow of Major B. St.J. Mundy, who died on December 22 aged 83, left £52, 876. She left after certain bequests the residue as to £6,000 for a recreation ground, park or pleasure ground for Thornbury: £500 to the church council of Thornbury. For repairing of the parish church: £100 to Almondsbury Hospital: and after the payment on the duties on these three bequests, the remainder to Bristol Dog's Home, Bristol General Hospital, Bristol Royal Infirmary, Bristol Eye Hospital, Muller's Orphanage, Bristol and the Waifs and Strays Society.'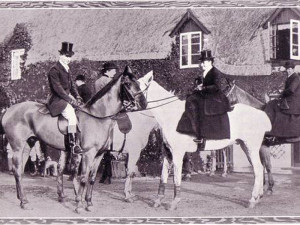 Violet Mundy on the white horse December 21st 1907 – with Captain Walter Lindsay on the left.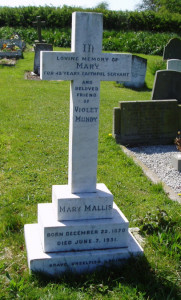 The grave of Violet's 'beloved servant and friend – Mary Mallis' who is buried in the Thornbury Cemetery'- 'Brave, Unselfish and Loving'. A wonderful citation for a beloved member of the Mundy household. Mary Mallis followed Violet from her position at Ruperra Castle.
The grave of Violet and Basil at Thornbury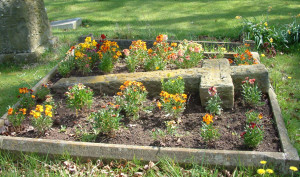 Violet's heritage at Thornbury – the Mundy Playing Fields.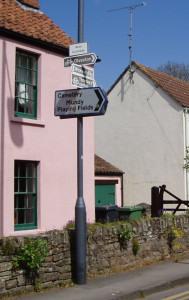 In researching this article, I came across a description of the Mundy's.  http://www.thornburyroots.co.uk/families/mundy-violet/. Excellently sourced you can see a digital booklet of Violet's Hunting Sketches and a Pathe News film of the tragic race in the Epsom Derby when her horse Avenger fell. Violet was described in the hunting world as 'Hellcat' Mundy – she did not suffer fools gladly. She was a product of her time, – she was feisty and fearless, so different from the latter day Morgans who abandoned the Morgan pursuits in the countryside for nightclubs and fast living.