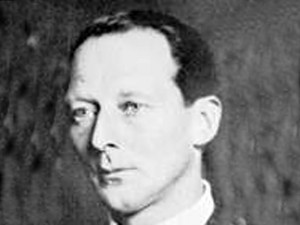 Evan Morgan, (July 13th  1893 – April 27th  1949) was known for his love of the Arts.
His paintings were exhibited at the Paris Salon and he was a keen poet, though it is fair to say that keen doesn't necessarily mean talented!
He published a number of volumes of poetry – Fragments , 1916 ; Gold and Ochre , 1917 ; Psyche: an Unfinished Fragment , 1920 ; and A sequence of Seven Sonnets , 1920 At Dawn, Poems Profane and Religious , 1924 ; The Eel and other Poems , 1926 ; The City of Canals and other Poems , 1929.
 His poem 'In Pace' (In Peace) was dedicated to his sister Gwyneth. She died in mysterious circumstances – her body was found in the River Thames in 1924. Does the poem hold the mystery of Gwyneth's fall from grace? A woman referred to in the poem as 'That super-Cyprian, coarse-souled Sybarite, whose gross and vulgar hand struck at our joy' was certainly held by Evan to blame for Gwyneth's fate.
Evan was a Fellow of the Royal Society of Literature , In 1936 he established the Tredegar Lecture for the Society in memory of his father, Courtenay Morgan and he delivered the inaugural lecture. His subject ' John Donne – whom he described as 'person of mystery, poet, lover theologian and mystic'.  He also addressed Foyles Literary Luncheons.
Evan's poetry books for sale (many of his books were limited editions) can be found on such internet sites as Bookfinder UK or peruse some of his poems  free via these internet links.
http://archive.org/details/fragments00morgiala
http://archive.org/details/psycheunfinished00morgiala