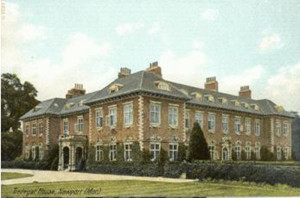 'We are indebted to Becky Gingell for allowing us publish her dissertation about the Morgan Family of Tredegar House in 17C, it is a piece of work towards a Degree of BA (Hons) History. Well researched, with useful references, this will satisfy the curiosity for those who want to know more about the family.'
The focus of this work is upon the material cultures owned by the Morgan family in the late-seventeenth century. Such an investigation is important because there is little surviving information which relates to the Morgan family, and an in-depth study from a collection of remaining inventories offers an insight into how the Morgan family chose to live. When two inventories are compared from different time periods, phases of spending are uncovered which helps to profile individual characteristics. The inventories also give the opportunity to examine the servant's quarters, highlighting the changing material goods that had been bestowed on the servant's over a decade. Indeed, it has been noted that the servants had excellent living conditions and were highly valued by the family.
For this study, the research method includes working closely with the Tredegar inventories for the years 1676, 1688, 1698, 1692 and 1699, and although primary sources are scarce they are used whenever possible. Greater focus is placed on secondary evidence relating to material culture from the seventeenth-century. This research would suggest that during the seventeenth century the Morgan family were prosperous and influential, and after the great restoration work of Tredegar House between 1664 and 1672 they had great aspirations of being the most powerful family in south Wales. Through this research it could be argued that Thomas Morgan, for whom there are few surviving records, was a flamboyant and rather frivolous person who knew what he wanted and certainly obtained it. If he had lived longer he may have become as influential as his father, Sir William Morgan.
The read Becky's full dissertation  – Click Here
Acrobat Reader is required to read this file – if you do not have then download it here