'Fantastic mum' had big impact on Newport's Tredegar House
 Article In The South Wales Argus    8:14am Friday 31st January 2014 in News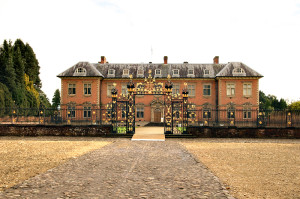 A STALWART supporter of one of Newport's biggest visitor attractions has died following a short illness.
 Phyllis Mary Roberts (nee Soffe), 91, was a founder member of the Friends of Tredegar House and part of a team of women who made and restored many of the soft fabrics which still adorn the house.
 Today the registered charitable organisation aims to conserve and spread public interest in the historical importance of Tredegar House.
 Mrs Roberts had a very active role as a founding member of the organisation and took part in re-enacting the history of the house.
 Her son Christopher Roberts said she loved playing the part of a parlour maid alongside her husband Frederick, who acted as a butler, during tours of the house for around 20 years.
 He said she was saddened when she grew too old to participate.
 Mrs Roberts, brought up in Pill, Newport, was the fourth child of five born to Sylvester Jesse Soffe and Frances Emilina (nee Williams).
 She had ambitions of becoming a pharmacist, but the financial climate meant she had to leave school before taking exams, to find work to help support the family.
 The Second World War intervened, and Mrs Roberts was employed in the office at the Royal Ordnance Factory off Corporation Road, where Bofors anti-aircraft guns were manufactured.
 Later, she recalled night shifts with dancing during the mid-shift meal break. The war exacted a heavy toll on Mrs Roberts and her family.
 Her brother Frederick (Ted), who had joined up along with her eldest brother Jack, was killed while working as a wireless operator when his aircraft crashed with the total loss of the crew.
 And later, her boyfriend Brynley Capel, who was in Bomber Command, was shot down and killed over Germany. In 1945 Mrs Roberts married Frederick and they had two children, Mr Roberts and Jane Paske.
 They lived in Malpas and later Gaer and, when she was in her 80s, she moved into Monmouth Court on Bassaleg Road leading an active life despite health problems.
 She enjoyed flower arranging and always loved poetry, reciting many pieces from memory, including Shakespeare's sonnets.
 She had two grandchildren, Daniel and Chloe, and lived to hear of the birth of her great granddaughter Cordelia Lily (Dilly) on January 20.
 Christopher Roberts said: "She was a fantastic mother."
 Her funeral will be held on February 12 at 1.30pm at the Gwent Crematorium.