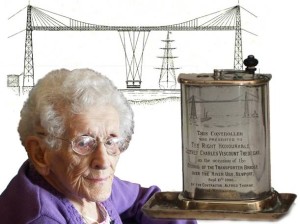 UNFORTUNATELY MARY PASSED AWAY ON 13TH NOVEMBER 2014.
PLEASE TAKE TIME TO RE-READ THE ARTICLE BELOW.
1st July 2013
Mary Courtney MBE of Aneurin Bevan Court, woke this morning to scores of 'happy birthday' cards. It isn't every day that you are 101 years old. When she joined her fellow residents in the lounge for morning coffee, little did she know that not only would she receive a present, but that she would be making a presentation herself, to Newport's Mayor, Councillor Cliff Suller, who was accompanied by his wife Christine.
Last year an email was received by Monty Dart archivist for the Friends of Newport Transporter Bridge – coincidently, she is also archivist for the Friends of Tredegar House, the email read:
 I am the current Historian for the South Dakota School of Mines and Technology's (SDSMT) American Society of Civil Engineers (ASCE) chapter.  Our chapter recently acquired what appears to be a cigar cutter from the Newport Transporter Bridge.  An alumni of SDSMT bought this cigar cutter at an antiques store and had it on his mantle for several years.  In 2007 he donated it to SDSMT.  He recently sent us a letter and was wondering if we still had it.  We found it.  The alumni would like us to get it to someone who will appreciate it, hopefully its rightful owner. SDSMT ASCE  Historian.
Brian Ruppelt
The cutter ties two famous Newport icons together –  Tredegar House and the Transporter Bridge, or three icons if you include Mary!
The cigar cutter was given to Viscount Godfrey Morgan by the contractors Alfred Thorne Ltd of Westminster on the occasion of the opening of the Transporter Bridge, Godfrey Morgan was of course Viscount Tredegar of Tredegar House. The handle that opens the cutter is a replica of the handle Viscount Tredegar would have used on the Transporter Bridge, to send it on its first journey across the Usk on 12th September 1906.
Mary worked as volunteer for the Friends at Tredegar House until the age of 98. She was a founder member (now honorary member of the Friends of Tredegar House) for over 30 years and on the occasion of her 101th birthday was pleased to present the cigar cutter – on behalf of the South Dakota School of Mines and Technology – to the Mayor, who accepted it gratefully on behalf of the City of Newport. He then led the assembled company in a rousing chorus of happy birthday. Mary acknowledged the singing saying that 'she was very pleased to be able to present the Mayor with such a unique gift'.
I spoke to Newport Museum Curator Oliver Blackmore and he said they would be pleased to have it but again, couldn't promise to display it but it would be available for people to see on request. So that was better than nothing!  I took it to the Museum on Monday and Oliver was so thrilled to receive this unique object that he has moved things around in one of the cases and it has already gone on display! Those who can't visit Newport Museum can see it on this short animation made by Tom my husband on the link below
Monty Dart (Archivist FOTH)