The Friends of Tredegar House
Is a registered charitable organisation Charity No: 518513.
which aims to spread public interest in the historical, architectural and environmental importance of Tredegar House in Newport, acknowledged as one of the finest country houses in the Principality. They also raise funds to assist with the purchase, restoration and conservation of objects on display in the House.
The House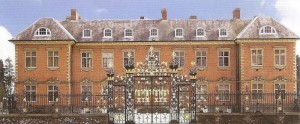 Tredegar House is one of the architectural wonders of Wales and one of the most significant late 17th century buildings in the whole of the Britain.
The earliest documented owner of a house at Tredegar is Llewelyn ap Morgan, who was alive in 1402, whilst in 1540 John Leland mentions "a very faire place of stone", called Tredegar. Meanwhile Charles I and his retinue visited the house in 1645, which indicates the importance of the property.
Tredegar House is largely a creation of the late 17th century: between 1664 - 1672 it was rebuilt on a palatial scale when a sequence of state rooms was incorporated into the building. At this time the estate comprised 1,000 acres, of which 90 acres remain today.
The Lords of Tredegar are no more, the last dying in 1962. The House was sold and it's contents dispersed in 1951 and for 23 years it was a school. Taking over Tredegar House in 1974, Newport Borough Council began restoring and refurbishing the property.
The story of Tredegar House and the Morgan family is a fascinating one. To find out more become a Friend and help to restore one of the finest 17th properties in Wales.
Tredegar House is now open for public tours under The National Trust as from 4th April 2012 seven days a week from 11.30 am to 4 pm, giving you the opportunity to enjoy one of South Wales' best kept secrets. Additional special events take place throughout the year.
Tredegar House is now open as a National Trust Property
The House opened to visitors on a cold and blustery April morning and they poured in, from all over Britain.
Expecting to just meet Newportionians on such a miserable day the volunteer guides were overwhelmed by the enthusiam of the general public. In fact many people were breaking their journey at Tredegar House, often on route to somewhere else.
Some people stayed all day and it was particularly popular with those staying at the caravan site within Tredegar House grounds, indeed two couples from Oxfordshire said they were coming back the next day.
The Director General of The National Trust, Dame Fiona Reynolds made a surprise visit and was thrilled with the response from visitors.
-----------------------------------------------------------------------------------------------------------------------------------
This site is modified and administrated by Annie Parker
Information
News From The National Trust
If you  are interested in volunteering
for The National Trust at Tredegar House
You will be made most welcome
Please Contact :-
Volunteer Campaign Officer
getinvolvedtredegar@nationaltrust.org.uk